Bandai Monkey Business / Monkey Coconut (1981, LCD, Watch batteries, Model# 8108)
Game sold in handheld and watch form. First picture from a flyer that came with another Bandai game, the second picture is from the 1981 Bandai dealer catalog. I'm not sure if either of these were actually released in the U.S. I'm also not certain Monkey Business was ever released. This my be a pre-production name which was changed to Monkey Coconut for the actual release (both of these games are listed with the same model #'s) Foreign version is called Jungler (and the game is the same as Catch-a-Coke).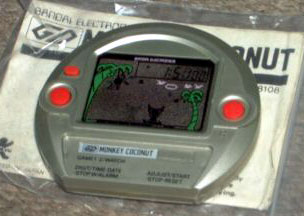 Bandai Monkey Business (1981, LCD, Watch batteries, Model# 8012)

Do I have these? No.