Cheryco Game Machine (1977, VFD, 4 AA Batteries, Model# ?)
View manual (in English, see Waddingtons The Game Machine. Score sheets are also available.)
Licensed from Waddington's 2001 Enterprises, it has several built-in games that are selected with the buttons on the front. Some of the games used overlays.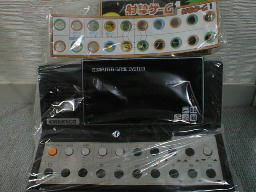 Do I have this? No (I have the Waddingtons version boxed (new)).