Mattel's Speed Freak (1982, LCD, 2 LR44's, Model# 5171) (Pre-production name: Formula Racer)
Programmed by: Peter Oliphant
View Manual
This is one of Mattel's small handheld LCD games, but nearly twice the size of Dungeon's and Dragons, I was surprised about that! :) 'Speed Freak' is a licensed trademark from Cinematronics, a company that made a lot of vector-based arcade games in the late 70's-early 80's, so it's possible that this is loosely based on an arcade game. The only arcade game I can find called Speed Freak is one made by Vectorbeam in Japan (which is a vector based game, so it may just be a Japanese release of a Cinematronics game). The circuit board on the inside of the game says 'Toshiba Auto Race'... Game play is also similar to Atari's Night Driver, but there are other cars to watch out for.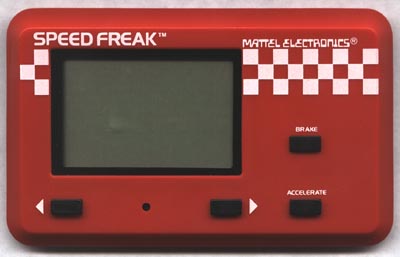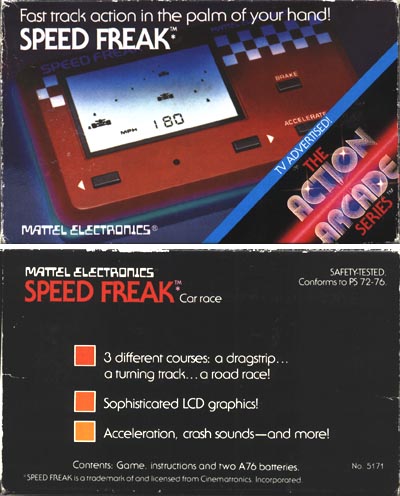 Do I have this? Yes, boxed.