Mattel's Horse Race Analyzer (1979, LCD, 9 Volt, Model# 1670)
U. S. Patent # 4,382,280
Invented by: Evan Mandel and William Quirin (according to the patent)
View Manual (See the AHTI Horse Race Analyzer in the manual section)
This was used to figure out handi-capping stats and information about thoroughbred horse racing. The algorythms were developed by Dr. W. Quirin (professor of mathemantics and computer science) and W. Mandel for Mattel. After Mattel stopped making it, Dr. Quirin and/or W. Mandel bought the rights and all the tooling and molds for the game and sold it for several years through Sharper Image (and possibly other outlets) under the company name of Advanced Handicapping Technologies, Inc. (See the AHTI version in the Misc section for more information about the programming and stats of the device.) This version looks identical except it's missing all Mattel Electronics logos and the manual is somewhat re-designed. I don't believe it's still being sold...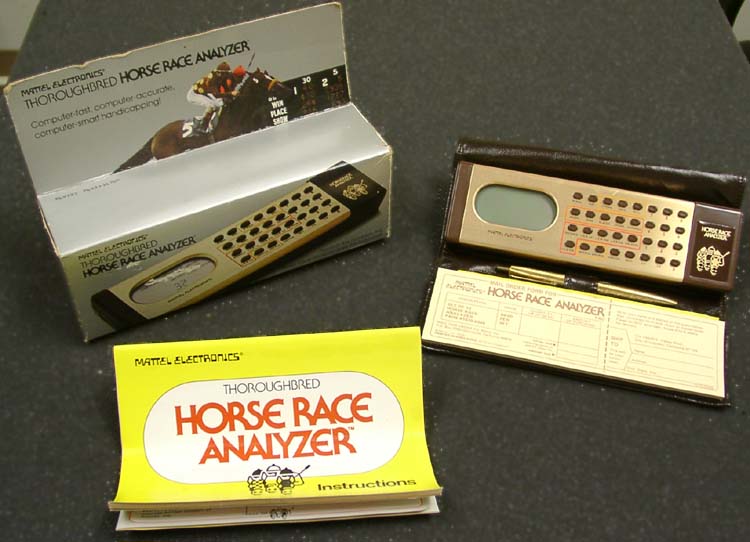 Here's an image of the AHTI version. As you can see, it looks identical, it just doesn't say Mattel anywhere.
(It says 'Handicapping Computer' under the LCD and also comes with a velvet carrying pouch):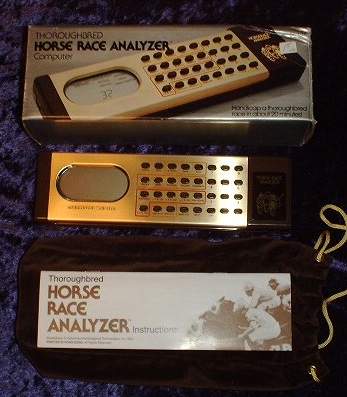 Do I have this? Yes, Mattel version new & AHTI version boxed.