Coleco Quiz Wiz (1980, LED, 9 Volt, Model# 2060)
U. S. Patent # 4,303,398
Invented by: Mark Yoseloff (according to the patent)
Cartridge based trivia game. About 30 different Quiz cartridges exist, only #1 was packed with system. Also released in the U.K. by Peter Pan Playthings as Master Challenge, and in Japan by Tsukuda as Ultra Quiz Machine.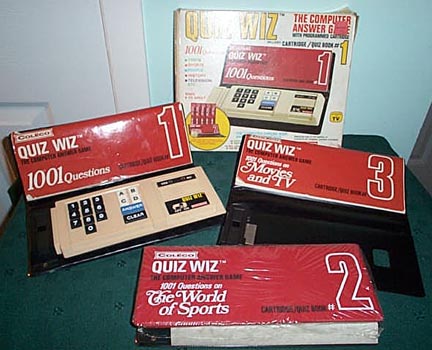 Larger sized box and some other cartridges: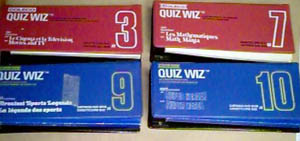 Do I have this? Yes, boxed (small box version) and carts 2, 3, 5, and 7.
Cartridge list:
1. 1001 Questions
2. The World of Sports
3. Movies and TV
4. People & Places
5. Trivia
6. Music & Books
7. Math Mania
8. The Book of Lists
9. Greatest Sports Legends
10. Super Heroes
11. Disaster! When Nature Strikes Back
12. The Ocean- Mankind's Last Frontier
13. Energy- The Fuel of Life
14. How Things Work- Aerosols to Zippers
15. NBA Teams
16. NFLPA
17. MLB
18. Guiness Book of World Records
19. The People's Almanac #1 & #2
20. Sherlock Holmes & Other Famous Mysteries
21. Greatest Sports Legends- Volume II
22. Monsters, Vampires, Witches and Ghosts
23. Words- Used, Misused and Confused
24. Super Trivia- Movies and TV
25. Rock 'N Roll- Doo Wop to Disco
26. The Bible- The Old and New Testaments
27. Soap Opera Digest
28. Ripley's Believe it or Not
29. Celebrity Trivia
30. Fascinating Facts about Animals